Green Card
Application
Forms, Evidence, Fees
What forms to submit, evidence to provide and fees to pay for a U.S. family-based green card.
Start your application
Sponsor Request
Form I-130 (and I-130A for spouses) is submitted by the sponsor on behalf of the applicant.
Learn More
Applicant Request
Form I-485 (for adjustment of status) or form DS-260 (for consular processing) are submitted by the applicant.
Sponsor Support
Form I-864 (affidavit of support) is submitted by the sponsor.
Medical Examination
Form I-693 is completed by a designated doctor.
Electronic notifications (G-1145), optional forms such as employment authorization I-765 and Advance Parole I-131, as well as affidavit of support variants may also be part of the green card application.
What are successful forms?
100% complete

Are all the required questions answered?
Readable
Can U.S. immigration agencies read the answers on the form?
Valid
Are all answers using only permitted values?
Consistent
Do the same questions have exactly the same answers?
Logic
Do any answers contradict each other?
Eligibility
Are the answers compatible with eligibility criteria?
Forms
Applicable forms must be 100% complete, valid, consistent, logical, and showing eligibility.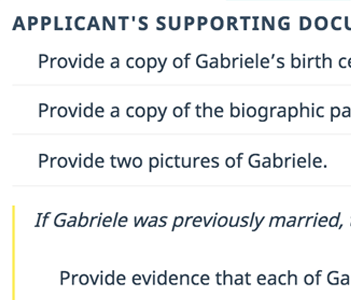 Evidence
Supporting documents must be adequate, issued by the appropriate authority, and in English or translated.
Fees
The correct amount must be paid with an appropriate payment method.
What kind of evidence should be provided?
Adequate
Do the documents establish the sponsor's status as well as the family relationship between sponsor and applicant?
Convincing
Are documents issued by the proper civil authority?
Used
Is the information contained in the documents identical to the information reported in the forms?
How should the evidence be presented in text?
Copies
Are all the documents copies of the original?
Translated
Are all non-English documents translated into English?
Attached
Are all documents relevant to a form attached to that form?
What are the fees and their appropriate payment method?
U.S. government requires that a correct amount must be paid with an appropriate payment method.
Fees vary depending on the form and might have related additional expenses such as doctor's fees for a medical examination.